Meet us in person at embedded world 2023

Meet our experts at the embedded world 2023 in Nuremberg. Visit us from March 14 to 16 in hall 4, booth 4-310.
PLS showcases the new version UDE 2023 of the Universal Debug Engine®. UDE 2023 offers a whole range of new features for debugging and especially for run-time analysis of embedded software.
Get your free ticket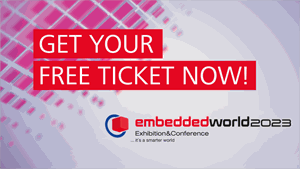 Secure your free 3-day-ticket. Please register online at embedded-world.de with the voucher code:
ew23492758
We are looking forward to see you at our booth.
Highlights at the show
Leading edge multicore debugging, trace-based run-time analysis and test with UDE for the latest automotive microcontrollers and processors:
Infineon AURIX TC4x and TC3xx
STMicroelectronics Stellar
Renesas RH850/U2B
NXP S32 Automotive Platform
Debug support for Bosch GTM
New and improved debug and analysis capabilities that enable you to develop safe and high-performance embedded software.
Advanced trace data analysis and visualization
Trace-based profiling
Non-intrusive Code Coverage
Global time base for trace-based analysis functions
AUTOSAR ARTI support
Debug and test automation
and more...
PLS' talks and presentations
Exhibitor's Forum
Debug and analyze your embedded software without affecting the runtime behavior with UDE
March 15, 11:30 - 12:00 CET
Exhibitor Forum hall 2
embedded world Conference
Non-intrusive Code Coverage Based on On-chip Trace
March 16, 12:00 - 12:30 CET
Session 6.8 Systems & Software Engineering | Testing & Debugging 1